5 Ways For Pitchers to Strengthen Their Arms in the Offseason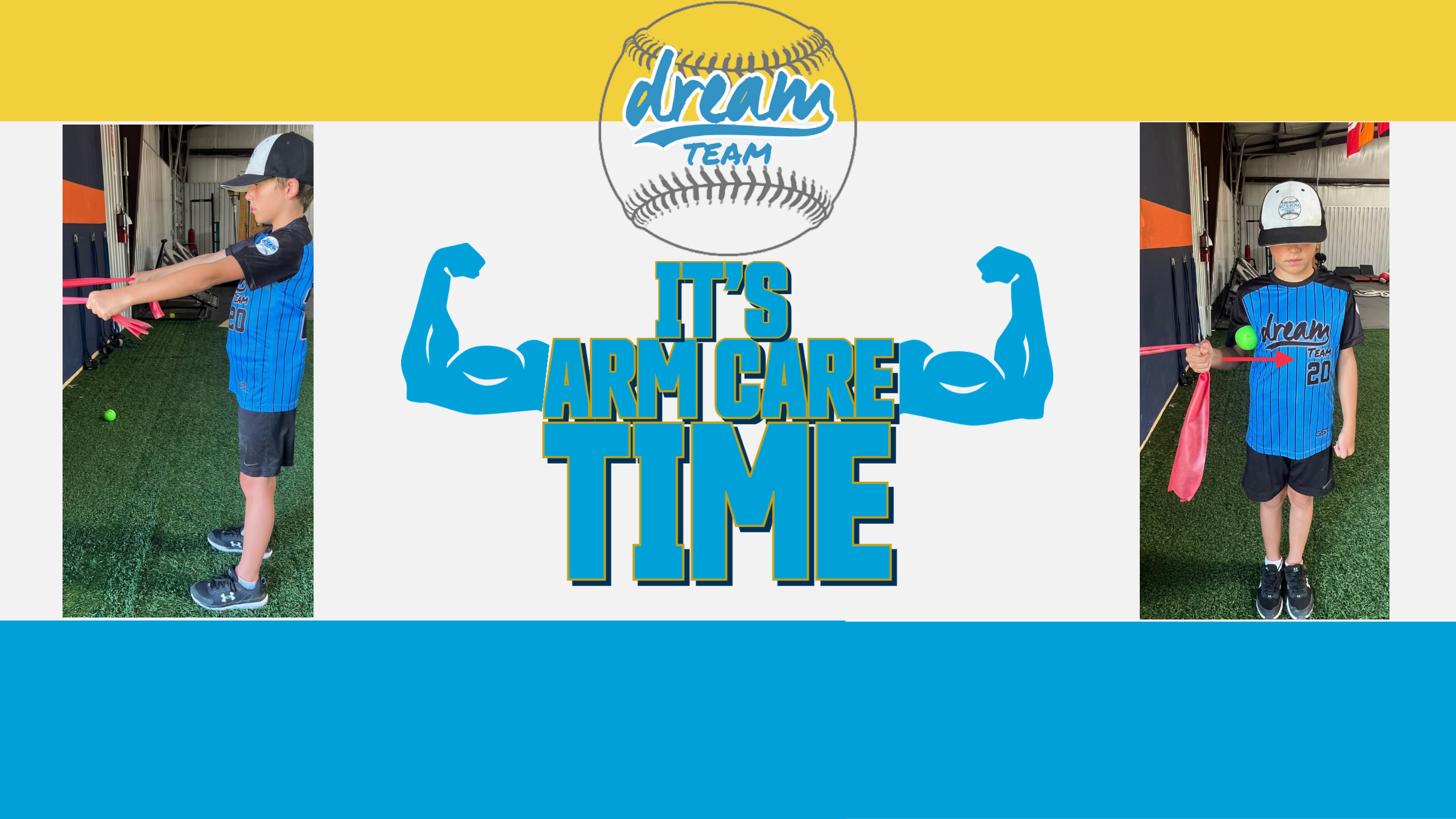 Find a Baseball Winter Offseason program to join! These programs are normally 6 weeks on average in total, but typically are packed with great ways for pitchers to improve arm strength. Many programs start with light throwing, core strength training, arm bands or plyo balls training, and most programs build up in intensity through the weeks and towards the last few weeks they can feature live bullpens against batters to get you prepared for the upcoming season. One great option for the Offseason is DREAM Team Baseball in Mansfield, Texas; their program is outlined on this Offseason Training webpage.

Arm Care Training can help improve arm and shoulder strength. Arm Care Training is very important especially for pitchers that are 13U or older. Each player must be supervised and monitored to ensure a proper and safe workout that won't strain your arm or other areas of the body. Most pitchers think only though about strengthening their arm when most of their pitching power really exudes from the lower half so they must mix in lower body workouts for their glutes, hamstrings, and calves such as training while starting with lunges or body weight squats. Arm Care Training can be taught to younger players also so that there is little to no strain on the arm if elastic bands are utilized such as this helpful webpage that provides an overview of Arm Care arm bands exercises.

Meal preparation and healthy eating habits. Eating the right meals in Offseason is very important to your muscle gain and creating a leaner, healthier frame. When you're in the Offseason, it's not time to cheat and eat whatever you want until the next season rolls around. Offseason is your time as a player to gain strength, build endurance, and believe it or not your eating habits affect both of those key areas. Instead of eating fast food or drinking sodas, focus on healthier choices that will help your body fuel up on the right kinds of food. There are free mobile apps such as My Fitness Pal that will count the calories for you and tell you how much fat is in certain foods. Depending on your Offseason Program, you may have a plan provided by your baseball instructors that is tailored to help you get to what your caloric intake and exercise program should be so you can cut unneeded weight and gain muscle mass.

Sleep and Recovery are keys to optimizing your gains. According to Elite Baseball Performance, "Knowing when to shut down after a demanding period of time and how to best prepare the arm in the off-season is the key to maximizing a pitcher's health." Sleep and recovery is very important to a player's Offseason and getting eight hours of sleep after throwing or lifting is very important. When you go to sleep at night, your muscles have a chance to recover. Sleep also helps you have more energy during the day which will carry over into more focus during your Offseason training.

(For Pitchers) Improving a Pitcher's Timing and Stride Length (building better throwing or pitching mechanics) will (in effect) strengthen and keep healthy the player's arm for repetitive throwing. In the Offseason, it's not just about strengthening the player's throwing arm, but it's also about reducing strain on the throwing muscles by building better pitching mechanics. You've probably heard the phrase in MLB where a pitcher throws "easy heat" or a certain MLB Pitcher throws pitches that "get on the hitter fast" and much of that has to do with two mechanics (Timing and Stride Length). Dr. Tom House and Mustard have said in this post, "While the throwing motion is natural, throwing off a mound is not, so the pitching delivery must be as biomechanically efficient as possible. And the easiest way to ensure your biomechanical efficiency is to perfect your timing and stride." Find a baseball program that instructs on Pitching Mechanics that really improve the mechanics focused on Timing and Stride length. DREAM Team Sports Center offers, for example, a Basic and Advanced Pitching Course (4 Weeks of Progressive Class Learning) for youth pitchers that focuses on these core pitching mechanics.